Vuse is now available at your doorstep with its array of new products that are available online; you just need a click to buy. So, how do you buy Vuse vape products online in Bangladesh? Yes, you can purchase vapes from an online company that's licensed to sell nicotine products.
 ♦ Follow the quick instructions:
 Go to our vuse page
 Add your items to the shopping basket
 Give your mobile number for OTP Verify
 Give few Personal Information for age verify
 After giving your delivery address, go to payments to purchase Vuse products.
 ♦  Before Know what is needed to buy vuse products:-
To buy vapes in Bangladesh, you must be of legal age 18+.
You need a valid mobile number to buy Vuse products.
You need a Nid (National ID Card or driving license or passport number.
For verification, you will need a clear background photo (National ID Card or driving license or passport number front and backside photo with a face photo.
Here are the steps to purchasing VUSE products in Bangladesh:
Visit the Xclusive Brands BD website. Along the top of the website, you will see a taskbar that contains several tabs, including Department Vuse.
Click "Vuse". Show A window with a popup option will appear. A question will appear directly beneath the "Yes" or "No" button, asking if you are 18 or older. Please verify your age before entering the site. *Are you over 18 years of age? Type "Yes" if you are 18+ or older.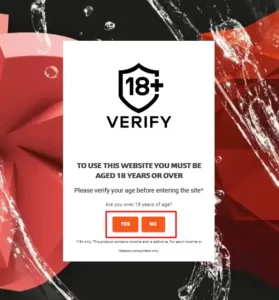 Go to the vuse landing page and take your desired products shopping cart and go to or checkout page.
To purchase products, go to the cart page and create an account or log in. To create a new account, follow this process.
After you successfully create an account, you will be redirected to the cart page and get a popup for mobile number verification. For an OTP, enter your phone number and click the "Submit" button. You will receive a random OTP code to your phone, which you must enter in the OTP box and click the "Submit" button. You have received a confirmation text.
Note: Give the mobile number for the next step that you verify now.
After showing a user verification popup, Your will need to require on Pop up from some Personal Information (if new account)
Mobile Number: It automatically requires the box that you have before you verify OTP.

Your Name: Give your right Name matching NID card or National ID Driving License or Passport.
Father's Name: Give your Father's following NID card or National ID Driving License or Passport.
Date of Birth: Give your date of birth following your NID card, national ID, driving license, or passport.
Gender: Select your gender Male or Female
Occupation: Select the Occupation
 Independent Business
 Private Service
Government Service
Self-employed
Student
Banker
Advocate
Media/Journalist
Doctor
Engineer
Homemaker
Others

Email: ID Type: Give your valid email address
Select ID Type: Select ID verification way.

National ID
Driving License
Passport

ID Number: Give your national ID number, driving license number, or passport number that you selected.
Photo verification: Upload your verification ID image in Front and Back font and upload your photo from your device.

ID Image Front:
ID Image Back:

 Your Photo:
3. Click the "SUBMIT" button
All processing is done here after the need to process the billing information and payment.
Note: These processes are only applicable for Bangladesh.